It's the shortest day (or longest night) of the year: winter solstice. For those of us in the Northern Hemisphere, winter solstice generally falls on December 21. Also known as the official start of the season, winter solstice can make anyone want to hide under the covers.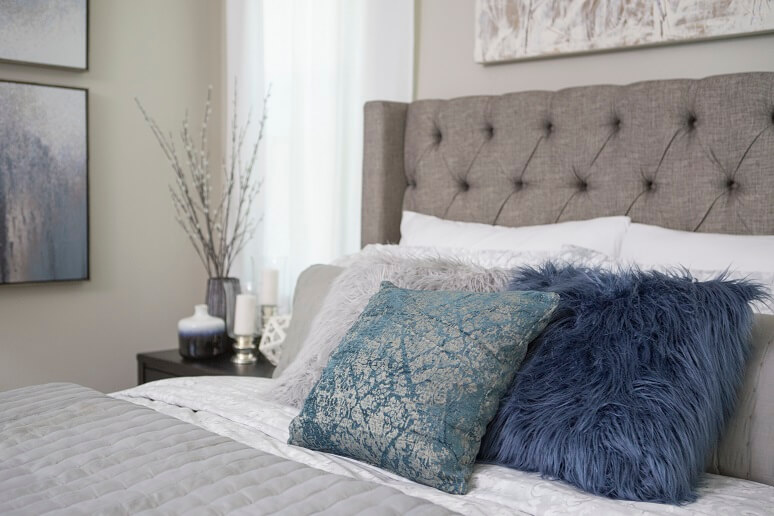 If you're a warm weather soul who plans on spending more time in bed in the coming months, better make yourself comfortable. With that said, we invite you into our winter solstice bedroom retreat.
Like what you see? Here's how we created it, step by step:
1. Roll with it.
Starting from the ground up, we rolled out the cozy warmth of a Moroccan trellis-pattern rug with a decadently plush shag pile. It's sure to make rolling out of bed on a cold winter's morn less jarring.
2. Welcome gray days.
The onset of winter puts us in a quieter mood, so we downshifted our palette with less color and more texture. We mixed muted shades of gray and soft neutrals for a restful retreat.
3. Pile on the layers.
To make our winter bed as warm and inviting as possible, we layered it on thick. We folded a comforter and laid it at the bottom half of the bed for a sumptuous look that gives our damask duvet another layer of interest. And then we propped up plenty of toss pillows, mixing size and texture. Faux fur really puts you in the mood for winter hibernation, doesn't it? (Tip: When topping a bed with toss pillows, think odd numbers, which adds visual interest.)
4. Lighten up. 
Winter's overcast days and long, frosty nights call for bringing in more light, which we clearly did with clear-base floor and nightstand lamps. A simply striking wall mirror reflects precious daylight throughout the room. Flameless candles are a delightful touch.
5. Add artful touches.
We decked the walls with abstract artwork reminding us of gently falling snow. For some subtle shimmer and shine, a few well-placed chrome-and silver-tone accents gave our winter retreat a touch of glam.