Changing colors. Shifting light. Isn't fall such a delight. As cooling temps draw us back to the nest, it's only natural to want to bring with us elements of the great outdoors.
Here's a breath of fresh air: organic fall decorating costs little money or time. A stroll through the woods, a run to the farmer's market is all it takes to fall home in style. Blogger Emily did just that at her Red Bank, NJ bungalow. Here she shares a few easy looks she created with help from Mother Nature.
Step It Up
This season, why not line your staircase in a naturally gourd-geous way. Adorning with pumpkins and gourds in assorted colors is the first step to a fabulous fall landscape. With cornstalk she picked up at the farmer's market, Emily infused festive flair by spray painting the tips.
Take Stalk of the Mantel
Like Emily's cornstalk look on the staircase? What do you think of it over the mantel? By cinching the cornstalk in the middle and entwining a few faux leaves, she created a unique free form wreath. For the mantel, a colorful combination of pumpkins, gourds and apples proved fruitful.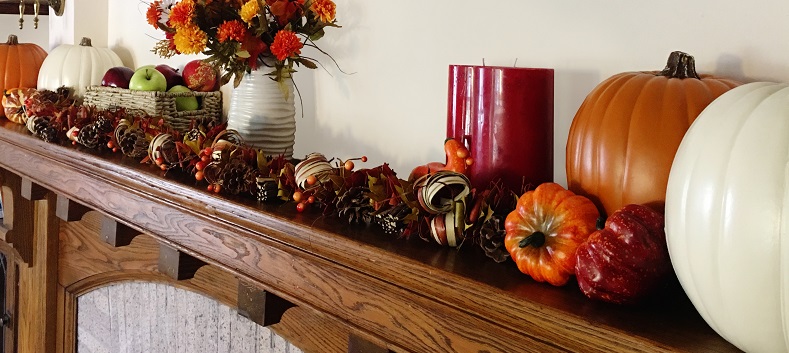 Discover Garland's Endless Possibilities
With everything from pinecones and berries to cinnamon sticks, you can string together a fall garland that not only looks fantastic, but smells divine. Tuck in some curly ribbon here and there for fanciful flair.
Leave It Be.
As Emily shows, organic fall decorating doesn't have to be a big undertaking. With her books, storage baskets and home accents intact, she dotted her everyday look with natural fall finds. If you have the time and the motivation, you can preserve autumn leaves for decorating, since they brown and crumble pretty darn quickly. Pressed for time, Emily opted for faux leaves. We think they look quite nice.
What do you think of Emily's take on organic fall home decorating? Express your point of view by sharing photos of your fall home on Instagram. Just include #MyAshleyHome in your post!