Drink stations often become the center of focus when entertaining or throwing a party. Whether you're serving wine, beer, mixed cocktails or sparkling water, adding a dash of personality to the display helps set the tone of the party.
Bar carts are the latest hosting trend and provide extra counter space for serving drinks. Not only do they help disperse your guests throughout your house, they are a great accent piece in your living room or dining area. Follow these simple steps to create the perfect cocktail companion for holiday entertaining and year-round style!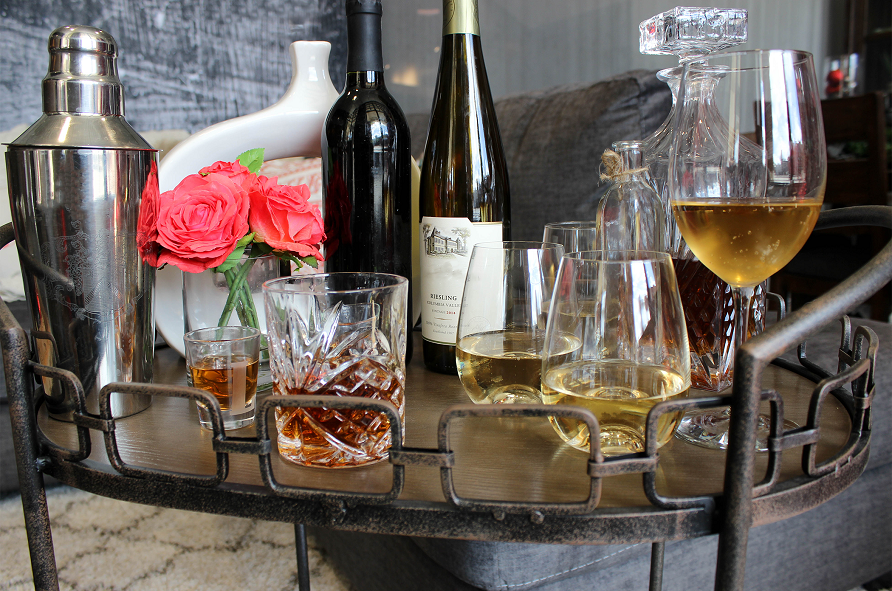 Start with the Basics. Show off your prettiest glassware. Have a few glasses for wine, beer and cocktails lined up and ready to go. If you have any vintage decanters or bottles, use them with a label to hold your spirits.
Add Varying Heights. As with any display, multiple heights give a sense of scale and interest to your arrangement. To make your drink station more visually appealing, try adding a vase with fresh flowers or tall candlestick holders. An industrial or architectural accent adds a touch of unexpected interest.
Include a Splash of Color. There are so many ways to incorporate color in your display. When shopping for your party, look to add color through the bottles themselves. An intriguing label or holiday packaging can add a festive element to your cart.  A bowl of lemons, limes or even pomegranate seeds will liven up the look and can be used as garnish in a variety of drinks.
Stock Up. Assess your inventory of bar cart essentials. Although the initial investment can be daunting, it's well worth it once you start bar-tending. A cocktail shaker, jigger, corkscrew, bottle opener, ice bucket, paring knife, picks and stirrers are hardware basics. Bitters, sweet and dry vermouth, simple syrup, cherries and olives are your pantry items. Soda, tonic, ginger ale, 7-up and coke round out the mixers. And to make you have something appropriate for the teetotalers in the crowd, a fun-flavored water is always appreciated. If you're starting to run low on space, an ice-filled tub next to the cart is the perfect place to display sodas, beer and wine.download Ice Age: Collision Course 2016 movie now
Accessorize. Necessity is the mother of invention, as the saying goes.  Make your own cocktail napkins with stamps or a metallic pen (another opportunity to showcase your good taste, or cheeky humor). Try your hand at making homemade straws or paper flowers or even freeze ice cubes in a clever way. Use your imagination to guide you through adding all the finishing touches necessary to create a home bar that will let you serve it up in style.
Once you've completed your drink display for the holiday party, it's time to raise your glass with friends and family and do the mannequin challenge! That's right! Check out our version of the viral hit below.