When it comes to dining table styles, there's certainly no shortage of choice on the menu. And with so many factors to consider—from size and shape, to space limitations and seating accommodations—we offer a few suggestions to help you find a dining room table you're sure to savor. Click below to jump to the topic of your interest.
How to Choose the Right Dining Table Size
Elbow room. The right dining room table is all about proper proportions. To help you determine a dining table size that works for you, consider the number of people typically gathered around the table and then allow for ample elbow room.
General guideline: each person should be allotted about two feet of space to avoid bumping elbows while eating.
Wall clearance. When considering dining table size, don't forget to take into account passage space/wall clearance. Room permitting, you should leave at least 36 inches (though 48 inches is ideal) between the edge of your table and other furniture (such as a buffet) or the table and the wall.
Identify the Best Dining Table Shape
Rectangular Dining Table Styles: The most traditional choice, rectangular tables are the best option for large gatherings. They also offer more flexibility in terms of your seating arrangements.
With a rectangular dining table, you can really mix it up by combining dining side chairs, arm chairs and bench seating.
Round Dining Table Styles: With no sharp corners and a natural sense of flow, a round dining table can work great in smaller spaces.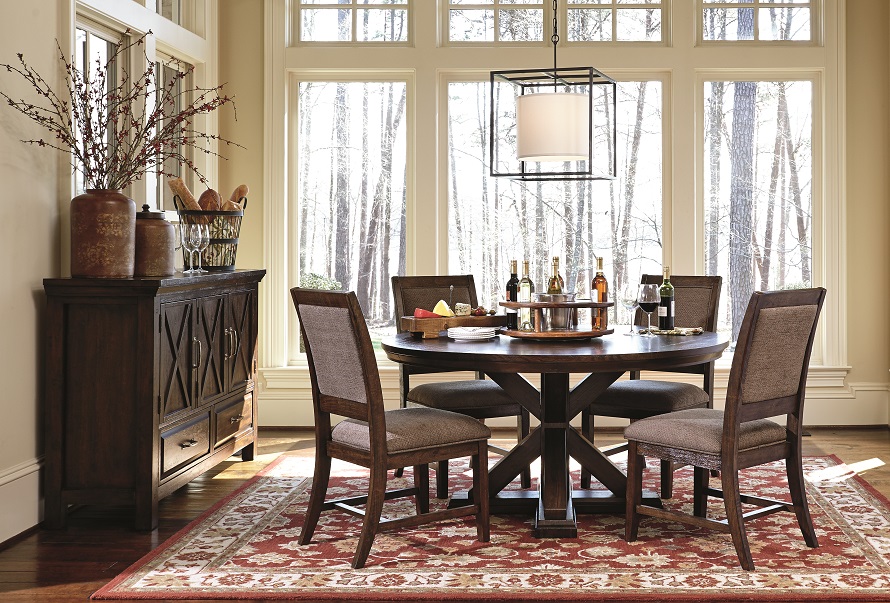 If creating an intimate atmosphere appeals to you, consider how a round dining table can bring people together and invite conversation.
A pedastal table base is something to savor if having plenty of leg room strikes your fancy.
Oval Dining Table Styles: Like a round dining table, the oval table has no sharp corners, thus enhancing room flow, which can be especially handy in tighter dining spaces where folks are passing through.
Fans of oval tables find the soft edges evoke a more warm and inviting mood with less formality.
Square Dining Table Styles: If you have a square room to work with, consider the symmetry and balance a square dining room table can bring. Plus, with a leaf, you can expand from square to rectangle…go from casual to formal…and transition from every day to special occasion.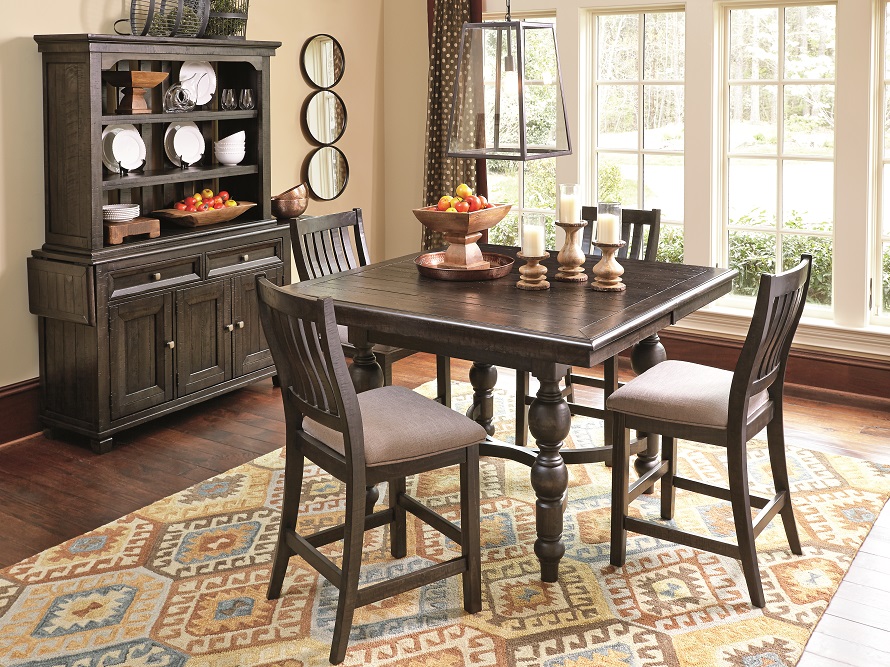 Like a round dining table, a square table fosters a more intimate dining experience, since everyone is equal distance apart.
Dining Room Tables vs Kitchen Tables
Times have changed. Gone are the days when having a dedicated dining room and eat-in kitchen is the norm. Now it's become more of the exception thanks to open concept living.
In a home with fewer walls and more open space, today's dining table might also serve as homework hub and/or informal home office—and the kitchen table has to be that much more space-efficient. In the modern-day kitchen…
Comfy upholstered bar stools and built-in storage can take a modest bistro table to a new level.
Tall and narrow pub tables really rise to the occasion, too, and create a casual vibe.
When it comes to dining room and kitchen table sets, sometimes less is so much more.
Just as appetizing…
Dining table styles that double as kitchen islands, offer handy storage and boast a space-saving design that lets you tuck the seats under the table when not in use.
Talk about multitasking. Small-scale counter height dining tables can make great kitchen islands.
Dining Table Style Tips
Cater to Your Lifestyle: Choosing the right dining room table is less about following traditional rules and more about serving your lifestyle needs.

Entertain a Leaf: Having an extendable dining table that comes with a drop-in leaf or a built-in butterfly leaf works if you entertain on a fairly regular basis. Consider how much you might actually use it. And if it's a drop-in leaf, do you have convenient/climate-controlled storage for it? Over time, wood furniture might warp if it's left in a hot or cold garage or attic.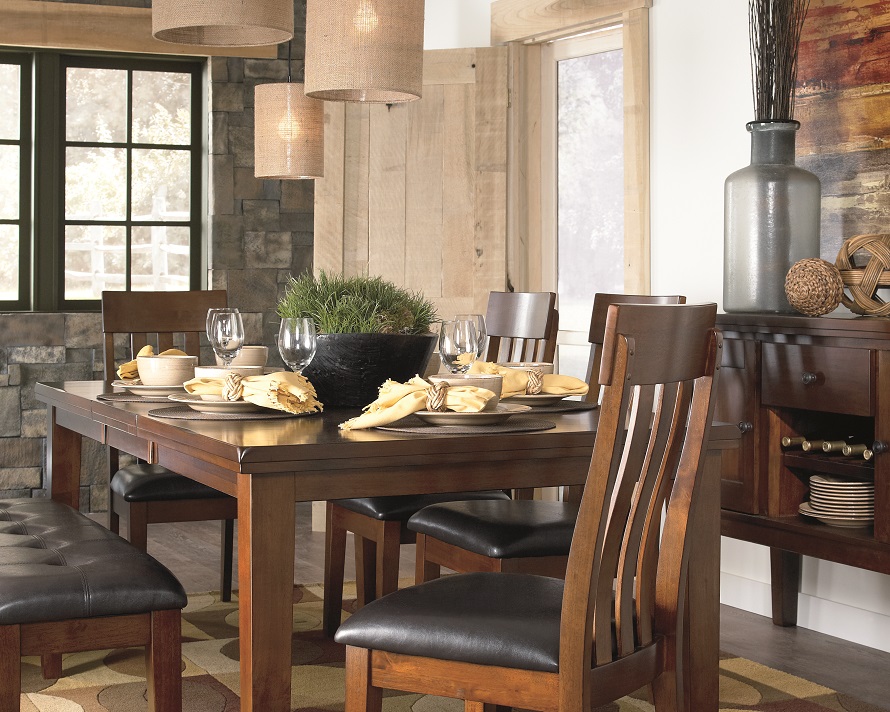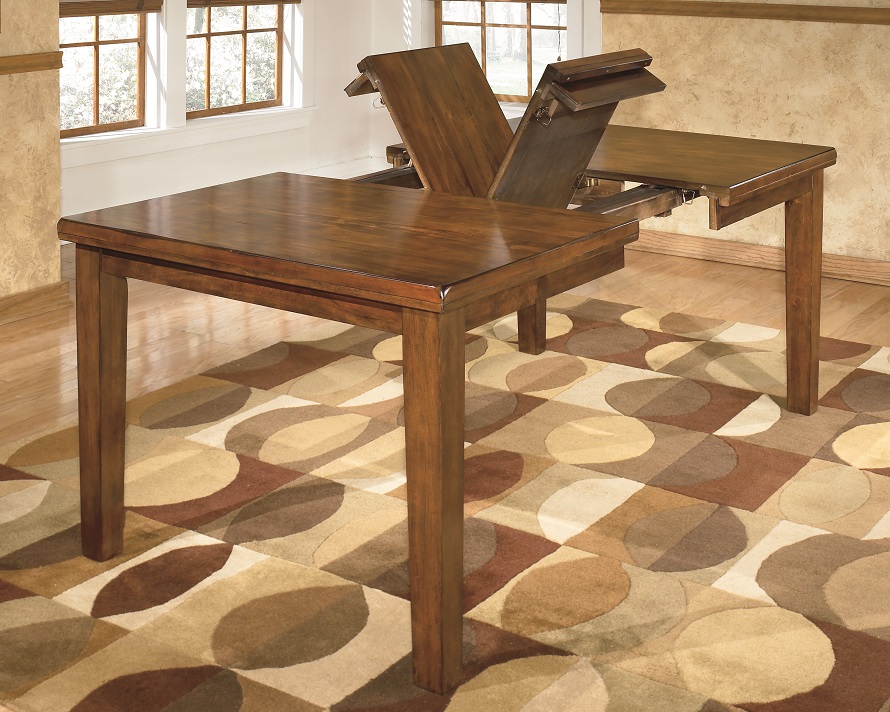 While you can opt for the popular drop-in leaf, a dining table with a butterfly leaf offers the convenience of self-storage.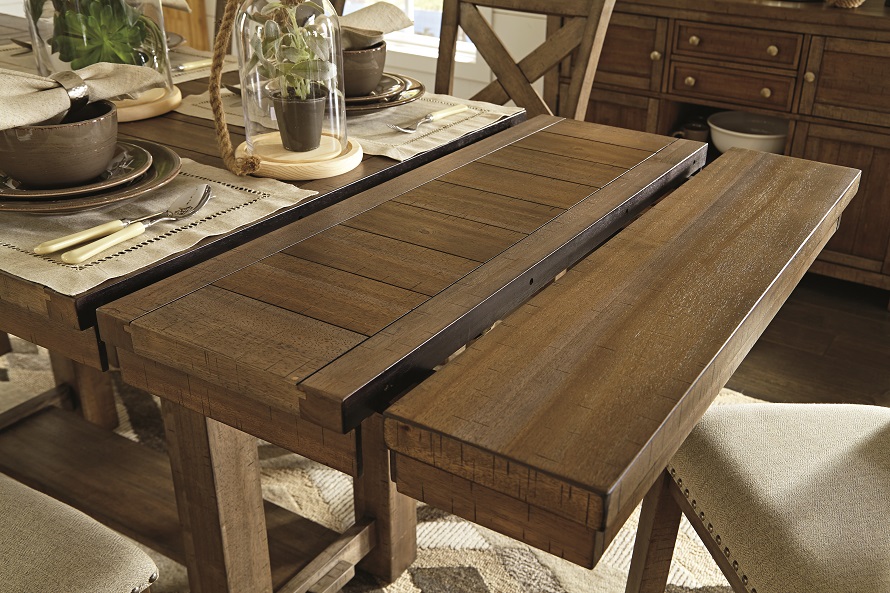 With not one but two separate drop-in leaves, our Moriville counter height dining table entertains plenty of possibilities.
Turn the Tables: Consider yourself a non-conformist? A counter-height dining table and chairs can give a dining room a pub-style atmosphere that's more your taste.

A fresh pop of color will give any counter-height dining table even more of a casually cool attitude.
Make It Work: For urbanites especially, who long for style but are short on space, a small but multifunctional dining table is ideal, offering plenty of room for storage and a place for your wine collection. Cheers to that.
A multifunctional modern dining table that looks at home flush against a wall is that much more space accommodating.
Make sure to share your darling dining room with us on Instagram using the hashtag #MyAshleyHome.