Picture this: you're looking for dining room ideas, so you head to the Internet. Easy, right? Well…maybe not. Searching for dining room decorating ideas can result in information overload. Sometimes having too many options can be a bad thing – especially when it comes to making a cohesive style statement.
10 Ideas to Spice Up Your Dining Room Design
With so many design options out there it can be hard to find your signature style. The solution? Come up with a plan and stick with it. Here are 10 dining room decorating ideas to help you design the room of your dreams.
Mix Light and Dark Design Elements
Add interest and drama to your dining room with contrasting colors. Mixing dark elements with lighter counterparts can be show stopping. A mixture of wood tones in furniture provides a striking contrast. You may also wish to add contrast throughout the room – paint the walls white to offset a dark dining room table and chairs. Or choose dark walls to showcase lighter furniture.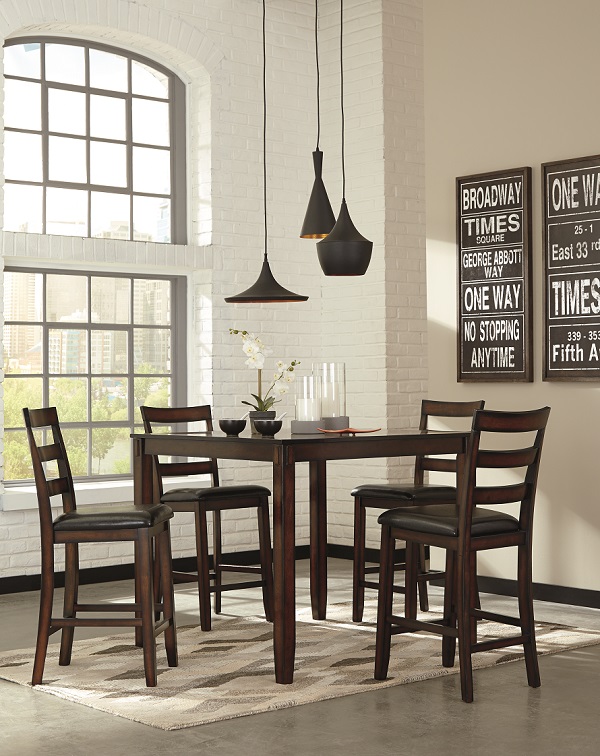 Contrast Colors and Styles
Who says dining room chairs and tables have to match? One of the hottest dining room ideas is all about mixing styles and colors. Look for seating that is similar in height in order to style an eclectic dining room that works.
Add a Dining Table Bench
And speaking of mix and match seating – feel free to eliminate a chair or two altogether. A dining table bench adds a fun, farmhouse feel. Using a bench in a formal dining room keeps things from being too serious.
Combine Styles from Different Eras
An eclectic mix of furniture and accessories from different eras can create a style that's uniquely you. So go ahead, surround that Queen Anne table with shaker chairs. Or fill your wall with graphic 70s prints to complement your art deco dining set. The sky's the limit. One caveat – find a unifying feature, whether it be color or scale, to ensure a harmonious blend.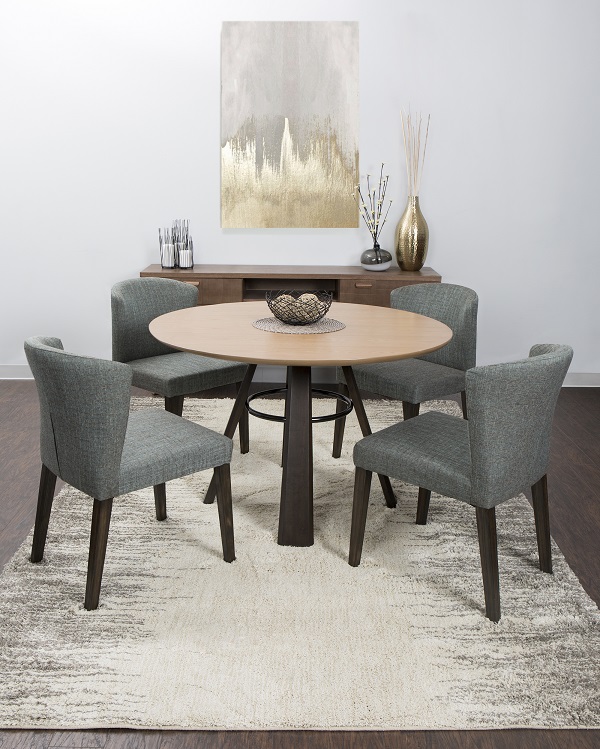 Let the Light Shine
Lighting is an essential component of a well-designed room. If your room is in the dark, consider a dining room lighting update. A gorgeous chandelier, hung 30″-36" above the dining table provides ambient lighting for an overall glow. Add a dimmer and the chandelier can also serve as task lighting for homework or crafting. Strategically placed accent lights either mounted on the wall or placed on the buffet highlight special areas of the dining room. To learn more, check out our lighting guide.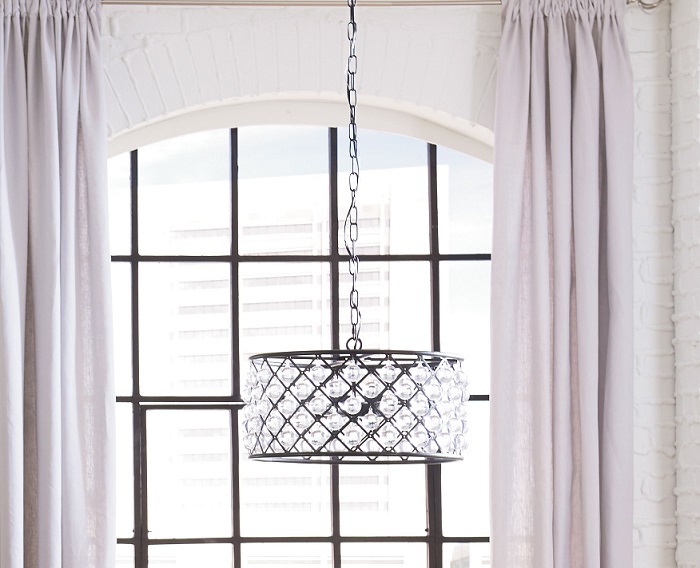 Wallpaper Adds Pizazz
Wallpaper. It's one of those "you love it or you hate it" design elements. Sure, it's more expensive than paint, but wallpaper instantly adds texture, color, and drama to any room. If you're in the pro-wallpaper camp, consider hanging paper that complements the furniture and overall theme of the room. Choose large patterns for explosive drama or subtle patterns for a softer look.
Be Creative With Paint
If you just can't take the wallpaper plunge, you can still make a significant design statement with paint. If creative painting is your thing, consider a mural or color blocking designs to make an unforgettable visual impact. Or go old school and choose a solid color that sets a pleasing backdrop.
Rugs Tie the Room Together
Area rugs anchor your dining room. Choose the right size to fit the room and your table. Don't forget to choose a rug that shows off your personality.
Show Off Your Collection
Show some personality by displaying a collection of your favorite things. Dining rooms are a natural place to showcase favorite dishes, but other collections can work here, too. Group together favorite vases, pottery, glassware and the like for a personality-infused style element.

Let Nature In
Put that green thumb to use by including live plants on your list of dining room decorating ideas. Whether you opt for a small dose of nature with tabletop succulents, or an infusion of foliage with tall figs or stalks of bamboo, houseplants add life and warmth to your dining room.
Share your stunning dining space with us by using the hashtag #MyAshleyHome.